Air India Ticket Booking: It Doesn't Get Easier
14.08.2014 10:36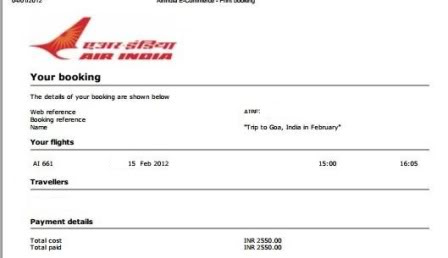 Air India Ticket Booking | Image Resource : airlinersindia.s4.bizhat.com
Air India is India's official airline and even though a large number of domestic and international players have ventured into the civil aviation industry the airline has maintained its own unique identity. This is the result of the dedicated, trustworthy and most essentially transparent services provided by the airline. The unfettering determination of its employees towards providing customers a safe and enjoyable travel experience is reflected in its efficient ticket booking facilities.
There are two modes of booking tickets with Air India, online and offline. Each of these services is customer oriented and easily accessible to all sections of the Indian people.
Offline Ticket Booking:
The offline ticket booking of Air India can be done at all major and small airports of India. Air India has its offices established at all airports in India barring those where its subsidiaries like Air India Express operates. These counters have a long working time and are therefore highly accessible. Air India Ticket booking is also available at various Air India offices established in all major cities in India which have air connectivity. These offices are highly efficient and not at all like traditional government offices which are sluggish.
Online Ticket Booking:
The official website of Air India allows users to books tickets instantly and makes payments easy through a variety of means like net banking, debit and credit cards. The booking system is quick, secured and maintains customers privacy. It also offers a number of discounts and special offers to users in order to promote online reservations as they consume lesser resources than offline bookings.
Kommentare